Attractions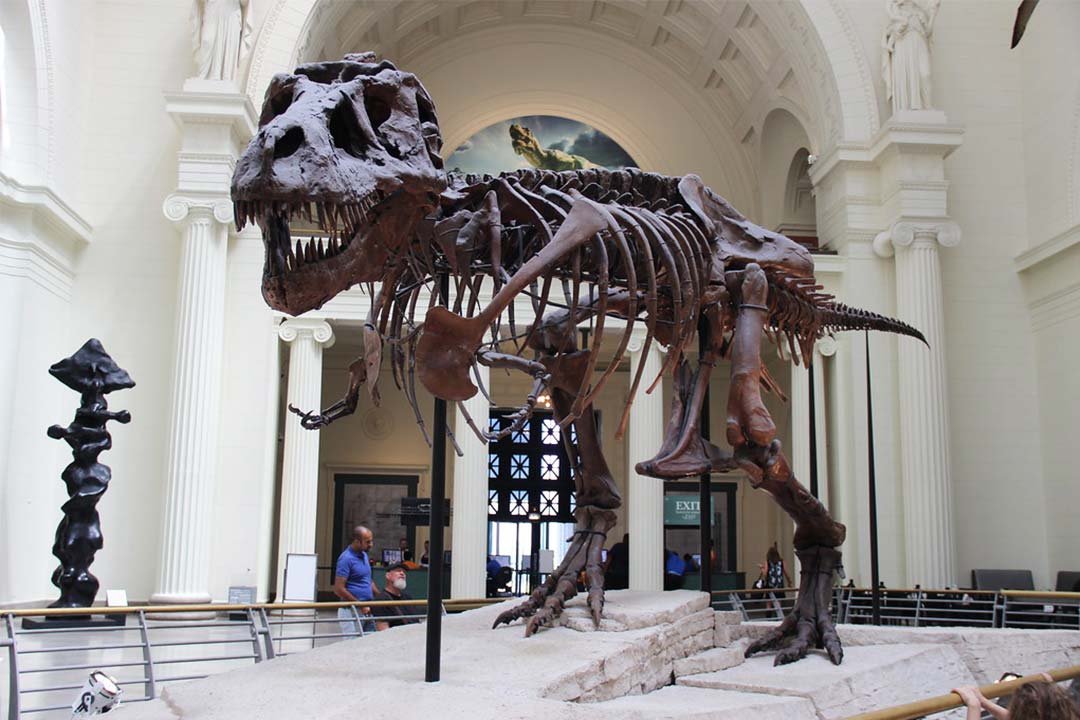 SUE The T-Rex
SUE is the largest, best-preserved, and most complete Tyrannosaurus rex in the entire world. It is the most iconic preserve in the Field Museum. SUE measures 40.5 feet long from the tip of the snout to the tip of the tail. The real 600-pound skull sits on a display on the Museum's balcony. At the exhibit, you can also learn all sorts of information about the SUE.
Inside Ancient Egypt
Watch the ancient Egypt tomb in the 'Inside Ancient Egypt'. The mastaba is a three stories tall tomb which includes two 5,000 years old authentic rooms of the Pharaoh's son, Unis-Ankh. You can also learn about the 70-day mummification process in realistic dioramas of ancient Egyptian workshops. Find out why Egyptians held animals especially cats in high esteem, explore the Egyptian marketplace and understand the everyday life of an ancient Egyptian.
Evolving Planet
Evolving Planet at the Field museum takes you on a journey through time. Beginning 4.5 billion years ago, you will see the earth as it was when life on the planet was evolving. There is a video show inside that shows volcanic planets and the frequent meteorites that scattered the Earth's crust. Also, have a look at the planet's first plants.
Activities
The Field Museum has recently put on display its newest Dinosaurs-Maximo. Crown Family Play Lab is another great area for younger children to touch and explore science. You can also visit a room of gems known as the Hall of Gems where kids will love seeing gems and minerals.  There is a small café Field Bistro located on the main level. It is a great place to get snacks for kids. On the ground level, you will find the Explorer café which is a large family cafeteria area.
What to expect
All the parking areas are paid for at the Field Museum. There are three parking areas available around the campus. Each of these is also parking for the Bear Games, Shedd Aquarium, and Adler Planetarium. The museum offers three levels of tickets to the visitors. Basic admission- $17-$26, Discovery Pass includes 1 ticketed exhibit or one 3D movie-$23-$34, All Access Pass- All general exhibits, all ticketed exhibits and one 3D movie- $27-$40.
Important Facts
The museum is named after one of its major benefactors, the department store magnate Marshall Field.
The museum's library contains over 275,000 books, journals, and photos.
The taxidermy collection has many large animals and these were featured in the 1996 movie The Ghost and the Darkness.
Plan Your Visit
The Field Museum will reopen this week as the city undergoes Tier 2 COVID-19 mitigations. The Field Museum was closed for two months due to COVID-19. The Field Museum will be open for members on Thursday and Friday. The museum will be open to the general public on Saturdays.