Attractions
Wedding and Monument Canyons Trails
Monument Canyon Trails offer panoramic vista, picnicking, camping, and bird watching experiences to the visitors. See the amazing rock formations which are titled Independence Monument, the Kissing Couple, and Coke Ovens. There are many other short and quick hiking trails such as serpent trails offering stunning views of Monument and the Grand Valley. Wedding Trails provide a loop hike through the lower ends of two wide red-walled canyons to enjoy.
Rim Rock Drive
Rim Road Drive is simply to visit much of the Monument by car on the 23-mile paved road constructed by cutting the cliff. Rim Rock Drive is famous for its challenging road bike route. It also offers an annual bike race, and exhibits on geology, history, walk and introduce the park to visitors. It provides access to trails, cross-country trails. Rim Rock Drive provides a Cliffside road for bicycling along with beautiful natural views.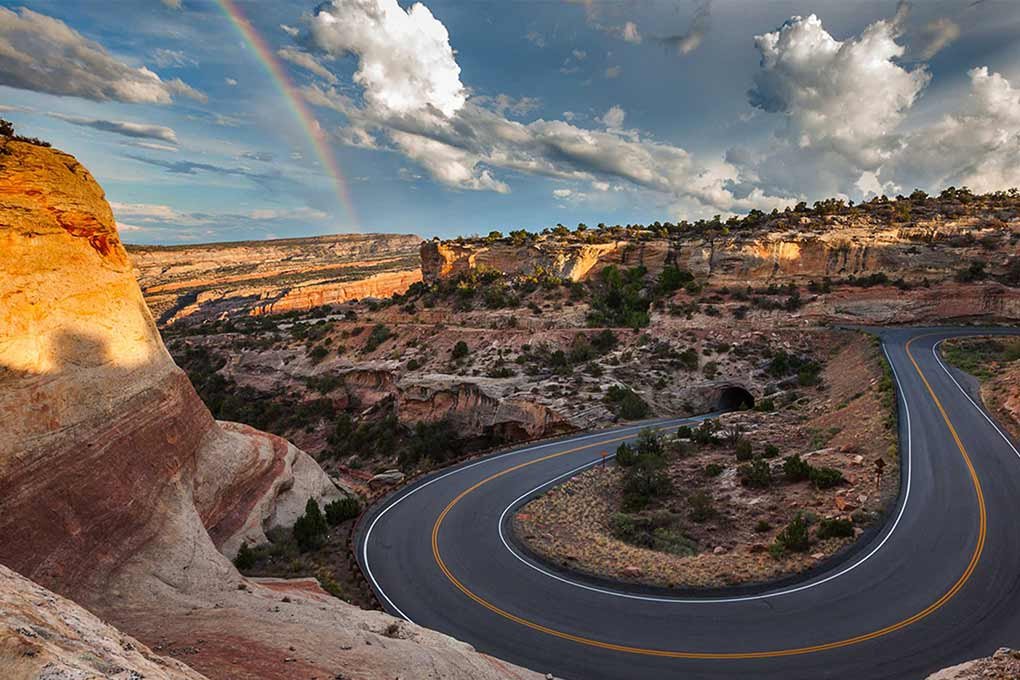 Devils Kitchen
Devils Kitchen offers a short hike with a photogenic group of sandstones fine, pinnacles, and spires, balanced rocks, steps, and rock windows to explore. It has 0.7 miles of length for a walk. Devils Kitchen is one of the more popular hiking destinations in the park that contains alcoves and high elevations.
Facts
Colorado National Monument was promoted and protected by a conservationist, John Otto.
The geological formations of basement rocks, Precambrian date back to 1.7-1.5 billion years ago.
Activities
Colorado National Monument is a great place for a picnic with the family. It offers hiking, horseback riding, backcountry hiking trails, road bicycling, scenic drives, a visitor center that contains a natural history museum, and gift shops. There are many easily accessible hiking trails and Rim Rock Drive along the plateau and campground to explore. Enjoy rock climbing, sightseeing, wildlife watching, bird watching, and photography in the way of trails.
What to Expect
Colorado National Monument is an excellent place to visit. Sheer Walled Canyons, red rock canyons, plateau, and other rock formations are the highlights of the monument to explore. You can enjoy seeing spy of the bighorn sheep, soaring eagles. Explore the diversity of geology at the monument and includes audiovisual program, exhibits, evening campfire programs. Visitors may spot mountain lions, desert bighorns, and other rodents. There is a variety of photo galleries to enjoy this amazing place.
Plan your visit
You can come here all year-round as it is 24 hours open. The park has a great drive with impressive views, interesting balanced rocks. Stay active to take pictures of stunning views of mountains, wildlife, plants! A great adventurous hike to enjoy your visit. The entrance fee depends on the vehicle type and the number of people you enter.