Attractions
Vesterheim Events
 The National Museum and American Folk School hosts plenty of fun events, concerts, live shows, webinars, and more to enjoy every year. There are many traditional and cultural activities, live music, and annual festivals. Enjoy a Norwegian Christmas tree party, holiday crafts, and live music by local musicians. The event at the museum shows the diversity of American-Norwegian artworks and traditional or educational events.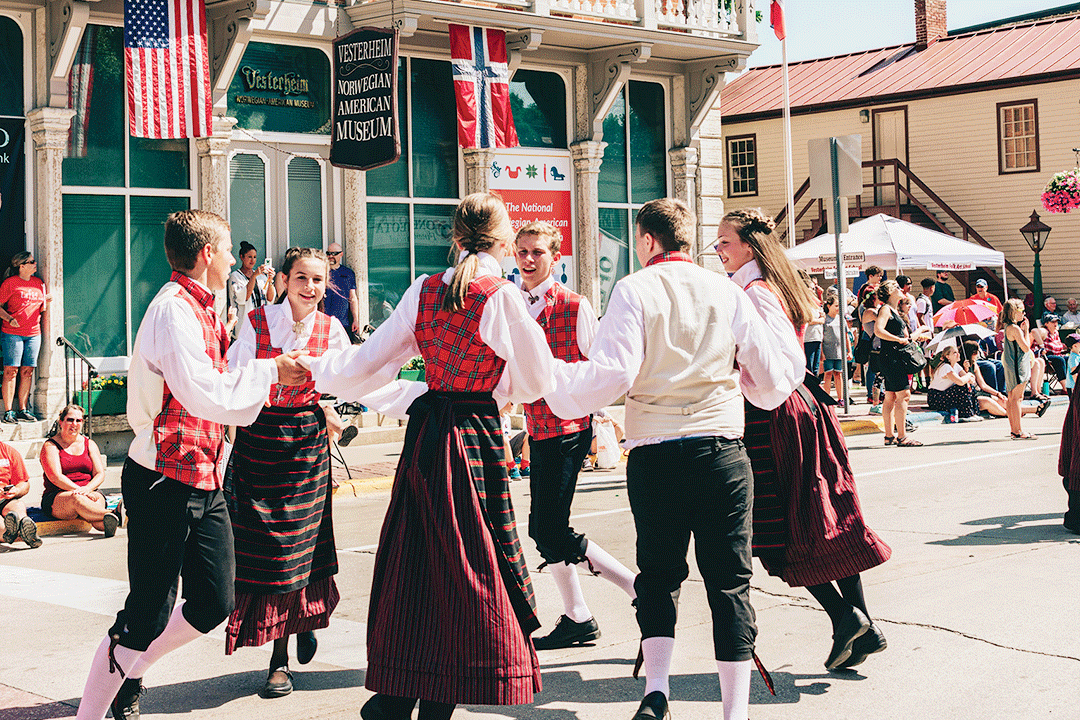 Educational Programs
 With multiple youth programs, the National museum and folk art school offer folk art classes and art supplies to improve the art of amateur artists. Learn about the American history of art, woodcarving, oil painting, and watercolor painting. The educational programs highlight historical artifacts and welcome new influences.
Fine art exhibits
From popular Norwegian-American artists and Norwegian immigrants, the museum includes thousands of artifacts, paintings, prints, sculptures, and historical folk art dating from before and after 1900. The museum offers folk arts of woodcarving, knifemaking, needlework, furnishings, ceremonial arts, objects, and tools in agriculture, sports, and industries to explore.
Facts: –
Vesterheim Norwegian-American Museum has 12 historic buildings and some of these buildings are registered on the National Register of Historic Places.
The director of the National Norwegian-American Museum is Chris Johnson.
Activities: – The National Museum and Folk Art School have an extensive fine arts collection, crafts, creative traditional and cultural arts, and adventurous events to enjoy. There are many art classes to take part in magnifying the skills of art. Delve into the historical art creativity of Norwegian-American Artists! The museum offers educational programs and art classes to share new information about artifacts through interactive exhibitions.
What to expect: – The Museum and Folk Art School is a dynamic campus that shows astounding, incredible fine arts by local and worldwide artists. You can explore works of visual art, including painting (made of oil or watercolors), drawing, immersive objects, historical sculptures, and prints. The museum and art school is a hub of Norwegian-American history and art to learn about art and enhance your skills in fine arts. You can engage in educational art classes and programs held at the museum for learners. You can take part in encouraging and inspiring lectures.
Plan your visit: – The National Museum & American Folk Art School is an all-year-round picnic spot-opens from 9 am to 5 pm to explore. The nature treasure in scenic Decorah displays the city's best fine arts, history, immigrant experience, and authentic Norwegian Folk Art! Explore 33000 artifacts showcased in the museum.