main attractions 
The Herrett Center for arts and science
Near the boundaries of Shoshone falls the college of southern Idaho, the Herrett center of arts and science is situated which is a completely profit free museum that aims to enrich educational pursuits. The educational space is absolutely free of cost for field trips and visits by tourists. The Herrett center along with Faulkner Planetarium with the largest theater in Idaho is the interest of most people from here and also from outside.
Dierkes Lake
The road for the Shoshone road along the Snake River, gives access to the best leisure time spot "Dierkes Lake". With utmost green space and a scenic environment, the spot is well-known for picnic, nature, swim, sunbath, and lawn activities. In addition to this, more thrilling activities are addons for lakeside cliffs, such as rock climbing, scuba diving, found plunging, etc.
Centennial Waterfront Park
Centennial Waterfall Park, along with Snake River Canyon, is a great place to spent leisure time for activities such as rock climbing, picnic, hiking, non-motorized boating, an easy way out for water activities. This park is adjacent to Canyon Springs Golf course where zipline activities are provided along with exciting views of the area.
The Niagara of the west is the best place to visit that connects you to the city. Plan your drive to such an adventurous place Shoshone falls park, Twin Falls, Idaho.
Facts
Shoshone Falls is also nicknamed the Niagara of the West.
Shoshone Falls has 212 feet in height and 900 feet wide in dimensions.
Activities
With beautiful falls, sharp edges, grassy meadows, breathtaking lookouts, and picnic tables on the dock, Shoshone Falls Park is a complete package of fun and adventure. The park is an ideal spot for hiking, boating, fishing, jumping, kayaking, and picnicking in spacious greenery, especially when waterfalls flow in full vigor and booming with the rocky mountain. Enjoy picturesque waterfalls and the lights of the city. Take a hiking trail to immerse yourself in the panorama of the waterfalls and scenic vistas. There is plenty of mighty waterfall scenery with local craft breweries, snack bars, and great restaurants for delicious foods.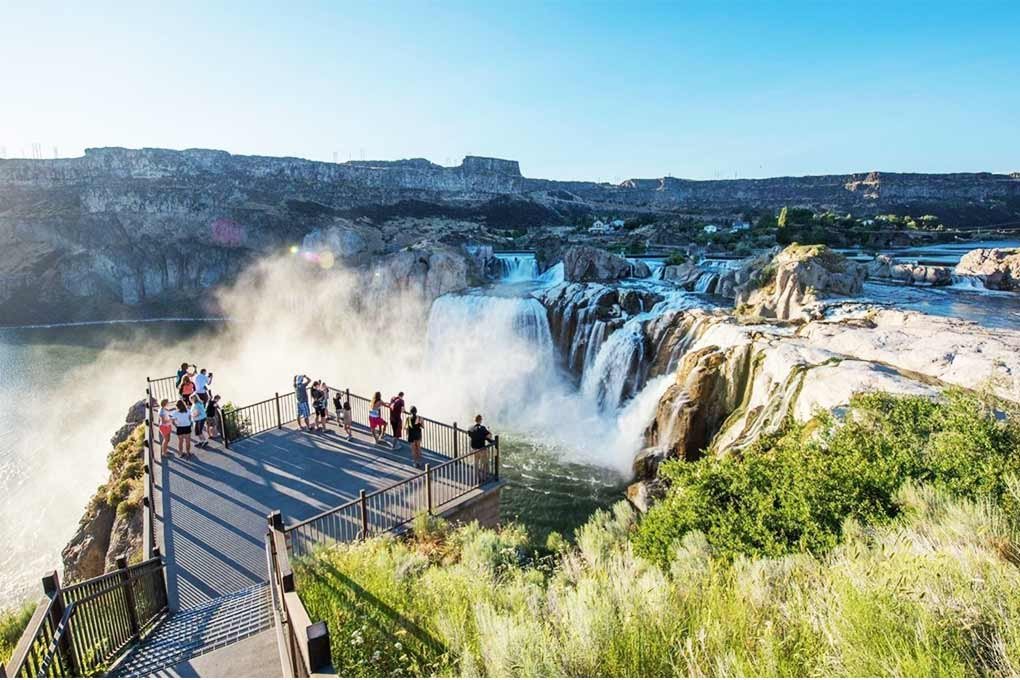 What to Expect
Shoshone Falls Park is near downtown twin with multiple entertainment opportunities. Traverse the beauty of the fall by taking a scenic trail walk that reaches the extremity of the falls with colorful rainbow overfalls. You can enjoy swimming, paddleboarding, kayaking, and boating in the falls. Enjoy hiking, golfing, biking, and walking along with tiny flowers and rich flora. Here you get the chance to fell in love with the beauty of the natural waterfalls.
Plan your Visit
Shoshone Falls Park is all year round destination to visit between 8 am to 10 pm. It is extremely easy to get access to enjoy lovely views from overlooks and trails. Enjoy listening to the water cascading off the grandiose waterfall to bask in the glory of magical fall! Explore the water activities in the park.